Key figures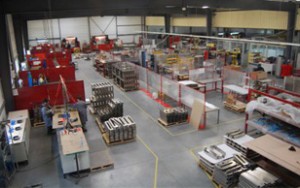 Annual turnover: € 4M
Workforce: 35 people
A sheet metal workshop : 2 punching machines, 4 bending presses, 6 welding boxes (TIG/MIG/MAG/soldering/spot welding…), finishing workshop (drilling, milling, riveting, bonding, assembly, cabling…).
A paint shop
---
Customer satisfaction
Customer satisfaction is our priority.
To ensure this, we have several performance measuring and monitoring tools.
Our ISO9001 system enables us to measure the level of customer service and the rate of non-compliance and monitor metrology and equipment maintenance.
We also have a CAM (CLIPPER) which enables real-time monitoring of component production via a bar-code reading system. This CAM also enables us to guarantee complete production traceability (raw materials, hardware, surface treatments, etc…)
Finally, responsiveness is enshrined in our corporate culture. We know how to adapt to the high standards required by our clients, and to provide solutions for extreme situations.
---
Organisational chart

---